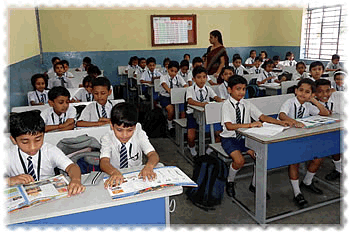 The instructional programme of Saint Joseph's School is planned to provide the best possible education for each child in the school. It consists of experience which will develop habit, knowledge, understanding and aptitude for present and future living. Here at SJS these experiences are selected according to the needs, abilities and interests of the group and each individual child.
The school has its main focus and impetus on academic excellence of the students. In order to fulfill this prime consideration the curriculum at SJS is delivered through an innovative combination of classroom and activity-led learning.
It is our strong conviction that all students are capable of learning and progressing. Our firm belief is that education becomes actually meaningful when students are autonomous learners who construct their knowledge independently.